Understanding the Benefits of Implant-Supported Dentures
Dr. Mark Tall provides implant-supported dentures for patients in Idaho Falls, ID, and the surrounding areas who want added support, stability, and jaw stimulation from their dentures. A great alternative to traditional restorations, the benefits of implant-supported dentures include their superior aesthetics and function. In order to receive implant-supported dentures, you must be healthy enough to undergo implant surgery and have a strong, dense jaw that can support the posts.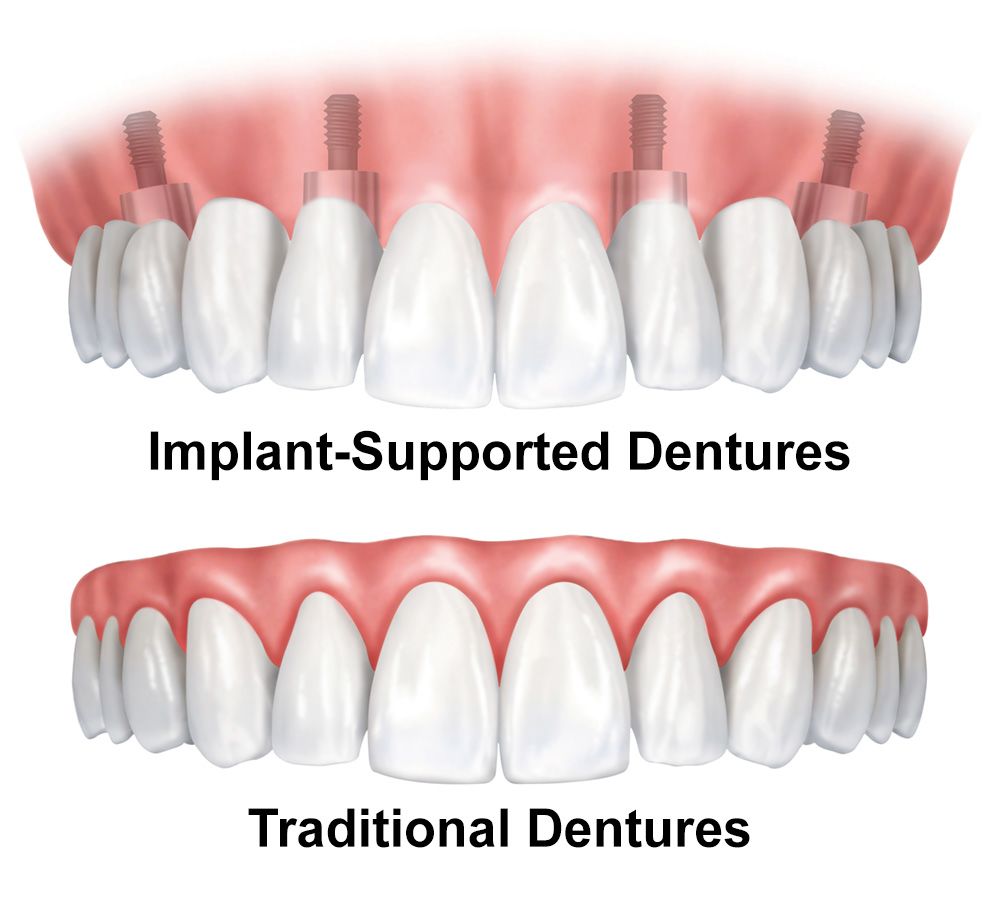 Traditional vs. Implant-Supported Dentures
Although traditional dentures are a lifelike, practical restorative solution, implant-supported dentures provide unparalleled stability and jawbone support. Traditional dentures are held in place using natural suction and adhesive. Dentures are custom-fit to the ridges of your gums, relying on natural suction, adhesives, and metal clasps for support. In contrast, implant-supported dentures are affixed to dental implants which are anchored in the jaw, ensuring your prosthetic will feel stable and preserve the natural shape of your gums.
Unique Advantages of Implant-Supported Dentures
Because of the advanced techniques used with implant-supported restorations, they offer many unique benefits over their traditional counterparts.
Improved Eating and Speaking
Although traditional dentures are an adequate replacement for missing teeth, implant-supported restorations allow you to achieve a stronger bite than traditional dentures. Implants replace lost tooth roots to become fused with the jaw, creating a lifelike foundation. This permanent, unrivaled support can keep dentures from slipping or shifting out of place while you are speaking or eating. Patients with traditional dentures can sometimes mumble or make clicking noises while they try to keep their dentures in place. However, implant-supported dentures stay securely in place so that you can have clear speech and confidence while speaking or eating.
Restore Jawbone Health
If you are missing teeth, your jaw bone will start to degenerate because it lacks vital stimulation from chewing. Implants act as artificial roots and provide stimulation to keep the health and shape of your jawbone intact. This prevents further bone loss and more serious effects such as facial collapse and a premature, aged appearance.
No Adhesives Needed
Traditional dentures are kept in place by adhesives, but dental implants provide strong support for restorations and eliminate the need for frequent reapplication of adhesives. Partial dentures will also no longer require mental clasps to stay in place either.
Implant-supported restorations rest along the gum line, leaving the palate uncovered for improved ability to enjoy warm foods and varied flavors.
Smaller Restorations
Restorative prosthetics are custom-made to look like your natural smile and carefully planned to complement your facial features. Because traditional dentures require support from natural suction, the base often covers the entire palate of the upper jaw. This feature can limit your ability to fully taste food and enjoy eating. Implant-supported restorations rest along the gum line, leaving the palate uncovered for improved ability to enjoy warm foods and varied flavors.
Experience Superior Benefits
Implant-supported dentures provide several benefits over traditional dentures, and can even improve health issues such as jawbone degeneration and facial collapse. Call our office at (208) 525-4780 or contact us online to find out if you are a good candidate for implant-supported dentures.