Mini Dental Implants: A Less Invasive Option for Missing Teeth
At Sandcreek Dental in Idaho Falls, ID, we are committed to providing as many restorative dentistry options as possible. That is why, along with long-lasting traditional dental implants, we also offer innovative mini dental implants. These restorations are frequently appropriate for patients who lack sufficient jawbone structure to support standard implants. Furthermore, Dr. Mark Tall can perform every stage of treatment at his office, from placement to restoration of the implants. After you have recovered from surgery, he will provide a remarkably lifelike prosthetic to restore your smile and self-confidence.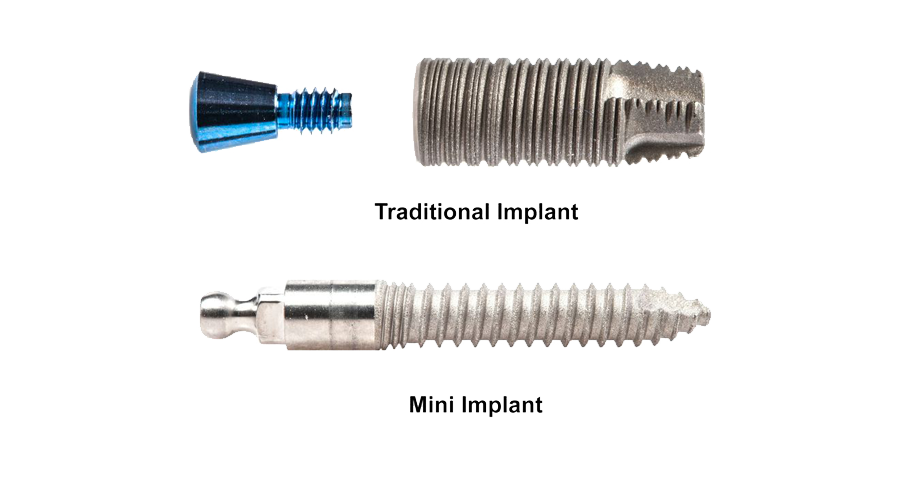 What are Mini Dental Implants?
Like their traditional counterparts, mini dental implants are biocompatible titanium posts used to replace your tooth roots. Anchored directly into the jaw, they can support a strong and durable crown, bridge, or even a full denture. However, mini implants are much smaller than traditional posts and consequently require less jawbone volume for support. This may make them a great option if you have suffered bone recession as a result of tooth loss.
The Benefits of Mini Implants
Because mini and traditional implants are similar, they offer the same benefits to your oral health. Because implants are fused with the jawbone, your restoration is much stabler than a removable prosthetic. Furthermore, by replacing your natural tooth roots, mini implants can also send the same regenerative signals to your jawbone that trigger new bone growth and prevent further jawbone recession.
However, mini implants offer their own distinct benefits, as well. Mini implants are available to a much wider range of patients than traditional implants, including those with a compromised jaw structure. Moreover, because these implants are smaller, patients may be avoid preparatory procedures, such as bone grafting or a sinus lift. In many cases, Dr. Tall can attach your restoration on the same day of your surgery so that you can go home with a complete smile.
What to Expect during Treatment
During your initial consultation, Dr. Tall will identify the strongest areas of your jawbone so that he can plan your surgery and restoration ahead of time. On the day of surgery, the doctor and his team will numb your jaw and gums. He can also provide deeper sedation if you are feeling anxious.
Mini implants are a great option if you have suffered bone recession as a result of tooth loss.
Once you are comfortable, the doctor will create small incisions in your gums to access the underlying jawbone, where he will insert the implants. After surgery, it will take several months for your implants to fully integrate with your jawbone. However, because surgery is less invasive than with traditional implants, the healing process is often faster. Dr. Tall can also attach a restoration immediately, giving you near-complete oral function on the same day of your treatment. When you have made a complete recovery, he will replace the this temporary with your permanent prosthetic.
Restore Your Oral Health
Whether you have recently suffered from tooth loss or you have been considering tooth replacement options for some time, mini implants may be the solution you have been waiting for. Contact Sandcreek Dental online or by calling (208) 525-4780 for more information.