All-on-4 Dental Implants Offer Solutions for Patients with Bone Loss
All-on-4® dental implants treatment can enable you to receive a complete denture supported by as few as four implants. This innovative system builds on the benefits of implant-support dentures. It often allows patients unable to qualify for traditional dental implants to experience the benefits afforded by a customized implant-supported restoration. In some cases, patients can even receive a custom restoration that is supported by implants on the same day as implant placement at our Idaho Falls, ID, office. Once in place, you can begin smiling and eating with renewed confidence. Dr. Mark Tall and the oral surgeons at Sandcreek Dental are committed to continuing education courses in order to stay up to date with the latest tools and technologies in the industry so patients receive the highest level of care.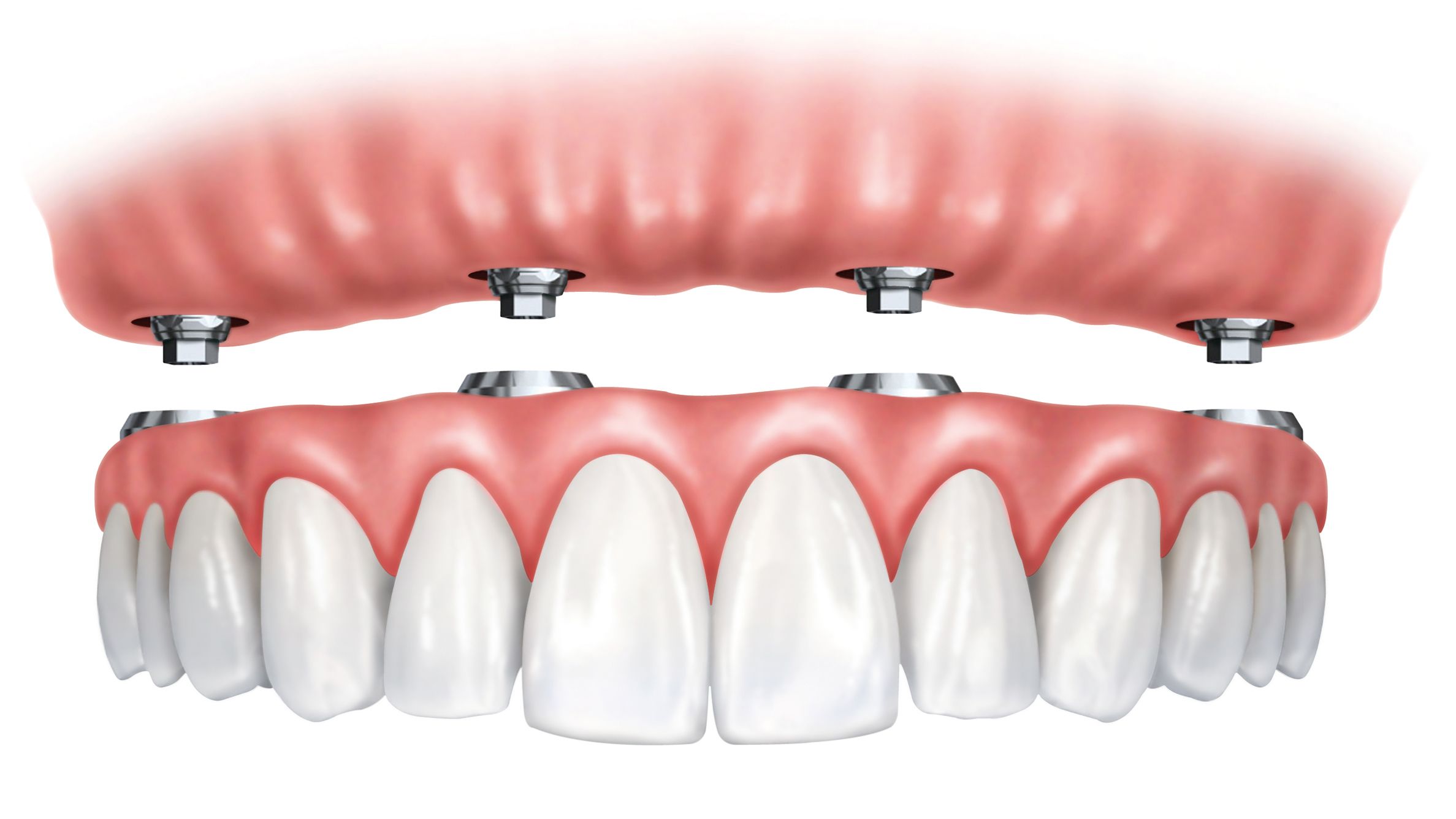 Traditional Dental Implants vs. All-on-4 Dental Implants
Dental implants provide patients who are missing teeth a solution to permanently restore the foundation of their smile. These small titanium posts are surgically inserted into the jawbone and are designed to mimic the natural tooth roots. However, some patients may not qualify for traditional dental implants due to insufficient jawbone strength. For these patients, All-on-4 dental implants can support a full-arch denture with fewer, smaller implants that make the most of the current bone tissue.
Traditional implant systems typically require eight or more dental implants to support an implant-retained denture. Because this type of implant is larger and impacts the surrounding tissues more, patients also require an extensive healing period before a restoration can be attached. Established by Nobel Biocare® in 1998, All-on-4 uses strategic placement to maximize the natural jawbone structure in order for patients to replace missing teeth. In most cases, restorations can be placed the same day – offering immediate results.
Are You a Candidate?
During your initial consultation, Dr. Tall will perform a series of tests to determine the health of your jawbone, gums, and any remaining teeth. Because certain jawbone health factors, such as bone atrophy and inadequate spacing can prevent you from qualifying for traditional dental implants, you may be an excellent candidate for All-on- dental implants. Often, this specialized system can eliminate the need for bone grafting or sinus lift procedures, shortening your treatment timeline and lowering your overall cost.
The All-on-4 Dental Implant Process
The All-on-4 dental implant process is performed as an out-patient procedure in our office, similar to placing traditional implants. You will receive appropriate anesthesia and the gums and surrounding tissues will be numbed with a local anesthetic. The first two anterior posts will be strategically placed vertically in the front of your jaw. Unlike with standard implants, the oral surgeon will then insert a posterior post at a precise angle on either side of the first two posts. Once securely in place, a customized denture can be attached to provide immediate restoration.
All-on-4 can help you restore your smile after tooth loss and avoid the need for a bone graft or sinus lift.
What Are the Benefits?
This implant system allows more patients than ever the opportunity to receive a long-lasting solution to replacing missing teeth. All-on-4 can also shorten your treatment timeline, allowing you to receive implants and an implant-supported restoration in a single day, rather than waiting months for the posts to fuse with the jawbone. In addition, you will require fewer dental implants which can lower your treatment costs because implant posts are priced individually.
Experience Lifelike Tooth Replacement
All-on-4 can help you restore your smile after tooth loss and avoid the need for a bone graft or sinus lift. If you would like to learn more about benefits they provide, we invite you to contact our office online today or call us at (208) 525-4780 to arrange your personalized consultation with Dr. Tall.