Safe and Gentle Wisdom Tooth Removal
Wisdom teeth are the last set of molars to develop. Unfortunately, these teeth often grow in at odd angles or become trapped in the jawbone, causing a host of oral health issues such as misalignment, tooth decay, gum disease, pain, and more. Wisdom tooth extraction eliminates the source of the problem by preventing dental issues from developing in the first place. At Sandcreek Dental in Idaho Falls, ID, Dr. Mark Tall can safely remove your wisdom teeth under the aid of general anesthesia or nitrous oxide sedation for your comfort.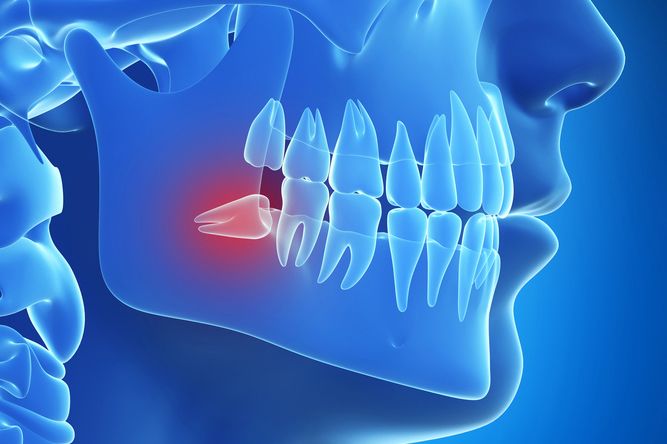 Planning Your Treatment
During your initial consultation, Dr. Tall will assess your teeth, gums, jaw joints, and surrounding orofacial structures. In order to visualize the wisdom teeth and the underlying bone tissue, he will utilize digital diagnostic imaging. Our advanced cone beam scanner captures thousands of 3-D images and combines them, providing an accurate representation of your mouth. This image will allow Dr. Tall to plan your treatment with unparalleled precision for a successful outcome.
What to Expect during Wisdom Tooth Removal
When you arrive at our office the day of your procedure, you will be escorted to one of our comfortable treatment rooms. If you choose to undergo sedation, our team will administer the medications to make you feel relaxed and at ease. We will also use local anesthesia to numb the wisdom teeth and the surrounding gum tissue.
Once you are comfortable, Dr. Tall will make a small incision in the gums to access the tooth and the supporting jawbone. If the tooth is fully or partially impacted, he may remove small amounts of bone to uncover it. Next, he will gently extract the tooth from the socket. In some cases, Dr. Tall may divide the tooth into smaller sections for easier removal.
With today's advanced surgical techniques, healing from wisdom tooth removal is easier than ever before.
Finally, Dr. Tall will close the incision with sutures and place a piece of cotton gauze over the site. He can then repeat this process for every wisdom tooth that must be removed. In most cases, we can remove four wisdom teeth in about one hour.
Healing and Recovery
As with any surgical procedure, some level of discomfort is common after a wisdom tooth extraction. However, you can manage these symptoms with prescription medications provided by Dr. Tall or over-the-counter anti-inflammatories. Patients will typically experience swelling for the first few days as well. To combat this inflammation, you can apply a cold compress in 20-minute increments for the first 24 hours.
With today's advanced surgical techniques, healing from wisdom tooth removal is easier than ever before. However, for optimal recovery, there are a few guidelines that should be followed closely. During recovery, you should:
Take all medications exactly as instructed by Dr. Tall
Stick to a soft-food diet
Avoid drinking through a straw for the first few days
Not participate in any strenuous activity for at least 48 hours
Soak the area gently with a warm saltwater rinse
Not swish vigorously, as it can loosen the blood clot
In most cases, healing takes approximately three or four days. However, some patients may require a week or more. Recovery time will depend on the complexity of your case and whether or not your wisdom teeth were impacted.
Protect Your Oral Health
Today, most dental professionals agree that removing wisdom teeth proactively can prevent more serious oral health issues. If you are interested in learning more, schedule a consultation at Sandcreek Dental. You can contact us online or call (208) 525-4780.